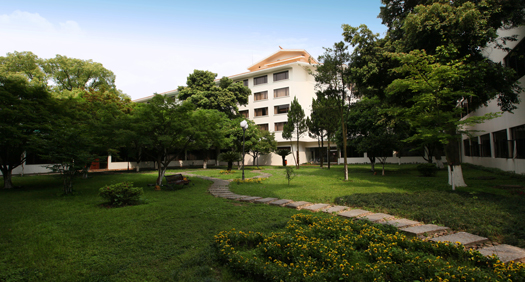 The hotel has four courtyard like architectures i.e. "Spring Garden, Summer Garden, Autumn Garden and Winter Garden", which are comprehensive gardens with clear topics integrating travel, leisure, garden enjoyment in one for the guests. The gardens collect exotic flowers and rare herbs, rare old trees and stone and root carving. There are constructions and decorations of different styles with reasonable layout and delicate originality. It merges the pond water, trees and small bridges and flowing water in one and embodies the charm of scenery of southern China.
Water is the spirit of the gardens. Adjacent to the Li River, whether it is fish pond for guests to watch, or green water around the gardens, all revealed an aura. Stone is the soul of the gardens. In the Spring Garden there are full of stalagmites and strange stones, large or small in sizes. They can embody the world's scenes, from clouds in the sky to running water in mountains, allowing visitors to give free rein to their imaginations. There is a variety of rare trees in the gardens in all seasons. Among them, there are osmanthus trees, the city trees of Guilin, sweet-scented plum, copious cherry, pretty and charming pine trees. To drink tea or have entertainment in it, you really will have amorous feelings.
Spring Garden: Occupying an area of 1570㎡. There are many peculiar and strange stalagmites, stalactites, stone columns spreading in it, which symbolizes the spring buds and new hopes. It is closely adjacent to the Hexi Chinese Restaurant on the first floor and the Balmy Restaurant on the second floor. In the garden, there are water areas, flowers and grasses, and yulan magnolia fragrance which gladden the hearts and refresh the spirit.
Summer Garden: Occupying an area of 1000㎡, it is courtyard like garden architecture and near the Whisper Garden Lounge in the lobby of the first floor. The small bridge and lotus flower are full of vitality. The fish jump and water flows. Looking through the window, it is all harmonious atmosphere. It is a best place for you to take a walk after meal and also an ideal place for you to hold outdoor wedding ceremony.
Autumn Garden: Close to the shop on the first floor of the hotel, it is 1029㎡ in area. It is most suitable for outdoor wedding and BBQ activities. The ancient trees and winding stone path lead to a secluded retreat, where it is flat ground with verdant grass and broad vision. It is a scenery garden for you to pass time.
Winter Garden: The most private garden of the hotel. The stone table and long benches await your presence. Adjacent to the Presidential Suite, it is brightly lit. Accompanied by the moonlight and following time, you can feel the slow life in the 280㎡ private space.